We offer excavation to your landscape where bigger machines just won't be able to go. After years of landscaping many properties throughout Perth's suburbs, inner city and regional areas, we have decided through trial and error that our dingo machine is the most convenient of all the machines we have operated. Access is becoming more of an issue for the bigger type excavators as suburban blocks become smaller and they also tend to rip the ground apart, adding extra hours. Cleaning up 'footprints' from bigger machines equals more costs to the customer.
Our mini Dingo contractor excavators are usually slightly bigger than those in which you would normally hire as a DIY option. The advantage of using our experienced operator on your next project will be a significant saving in cost and labour to you.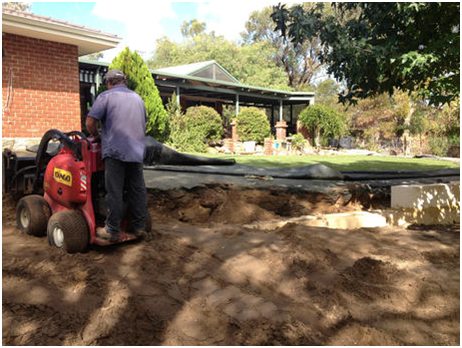 Consider the advantage of using Perth Trade Centre's experienced Dingo operator to complete your site work at a fraction of the effort if you were to do it yourself, with a number of attachments including our most popular handy grab and standard bucket.
Let Perth Trade Centre provide our advice on what the machine can do for your upcoming project. The grab attachment makes light work of what would have been hours of manual labour. It is ideal for grabbing logs, branches, trees, rocks and other awkward heavy loads. Perth Trade Centre customers use our Dingo operator service for a range of uses, including moving soil with our bucket attachment or even distributing mulch around your garden. We can make light work of clearing your block from weeds, unwanted shrubs and even small trees, creating a blank canvas for you to make over your landscape.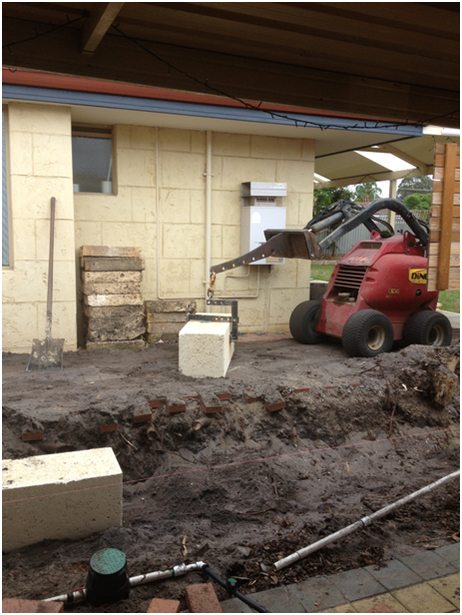 Most people are surprised that our Dingo excavator service is in most cases more cost effective than hiring a DIY machine, and with the added extra of a professional operator, it makes sense. You don't have to worry about getting your machine back on time or picking it up and dropping it off. In most cases we can give you a firm quote based on what we see so you can work to a budget without underestimating your project.
Safety is a concern when operating hire equipment. Accidents can be prevented by using Perth Trade Centres experienced operator. As we know our machines, we are less likely to cause damage to your home or landscape. By using our experienced operator you are also not going to injure yourself. As practical as mini excavators are at doing the job required, they can cause serious harm or even death to operators who are not experienced. As requirements for casual mini excavator operators are minimal when hiring machines from hire businesses, it is likely that damage or injury may occur.
When excavating, it is wise to make sure to take precautions where utilities may be present. A quick call to (1100 Dial before you dig) will locate services running through your property. It is as simple as giving your address details over the phone (in most cases), followed by the information on file sent to your email address. It is always advised that you call the dial before you dig service well before you consider digging in your chosen location. This will help identify any concerns before the Dingo operator starts earthworks. Useful link http://1100.com.au/
Perth Trade Centre's Dingo operator service can provide the following but not limited to- Rubbish Removal, Site clean ups, Concrete and paving preparation, Turf preparation, Landscape preparation, Renovation and construction, Site levelling and clearing and Mulch distribution .