We install Colorbond fencing and Hardie fencing
Colorbond fencing comes in a range of colours to suit your home and taste. Colorbond fencing won't rot, warp or twist, and will never need painting. With it's clever assembly and post installation system, Colorbond fencing goes up fast, stays in strong, and looks terrific.
On this page:
Choose a tab to see our Colorbond colour range, Colorbond fence and gate specifications, and browse some available accessories for Colorbond fences and gates.
Read some of our most frequently asked questions related to Colorbond fencing and gates
Find loads more information and pictures in our Colorbond fencing and gate related blogs
Useful links
See our links to download colours and guides, as well as some useful articles on what to consider when installing or replacing a fence.
Colorbond Fencing Colour Names & Aliases
Note: As printers, monitors and device screens can differ in the way they display colours, these colour swatches should be used as an indicative guide only. Available in 22 Colorbond Steel fencing colours, guaranteed to meet AS2728.
If you are considering colours, we can bring colour samples out to you for viewing during your free measure and quote.
Colorbond Fencing and Gate Specifications
The following Colorbond fencing and gate specifications are from our preferred supplier, and are similar but not identical between suppliers. You can request that your Colorbond fencing or gate product be from a different supplier, which you may wish to do if you would like to match your new Colorbond fence or gate with an existing one.
Colorbond fence panels and Colorbond gates are available in standard heights of 1200mm, 1500mm, 1800mm and 2100mm. Colorbond gates are available in standard 930mm (pedestrian gate) and 1720mm (per leaf, double gate) widths. Colorbond fence panels are available in standard 2400mm and 3180mm widths.
Custom sizes are available on both Colorbond fences and Colorbond gates, as well as accessories such as fence extensions and plinths (see our Colorbond accessories tab above for more information).
Standard boundary fences are 1800mm high. Contact your local council if you want to install a non-standard Colorbond fence on your property boundary.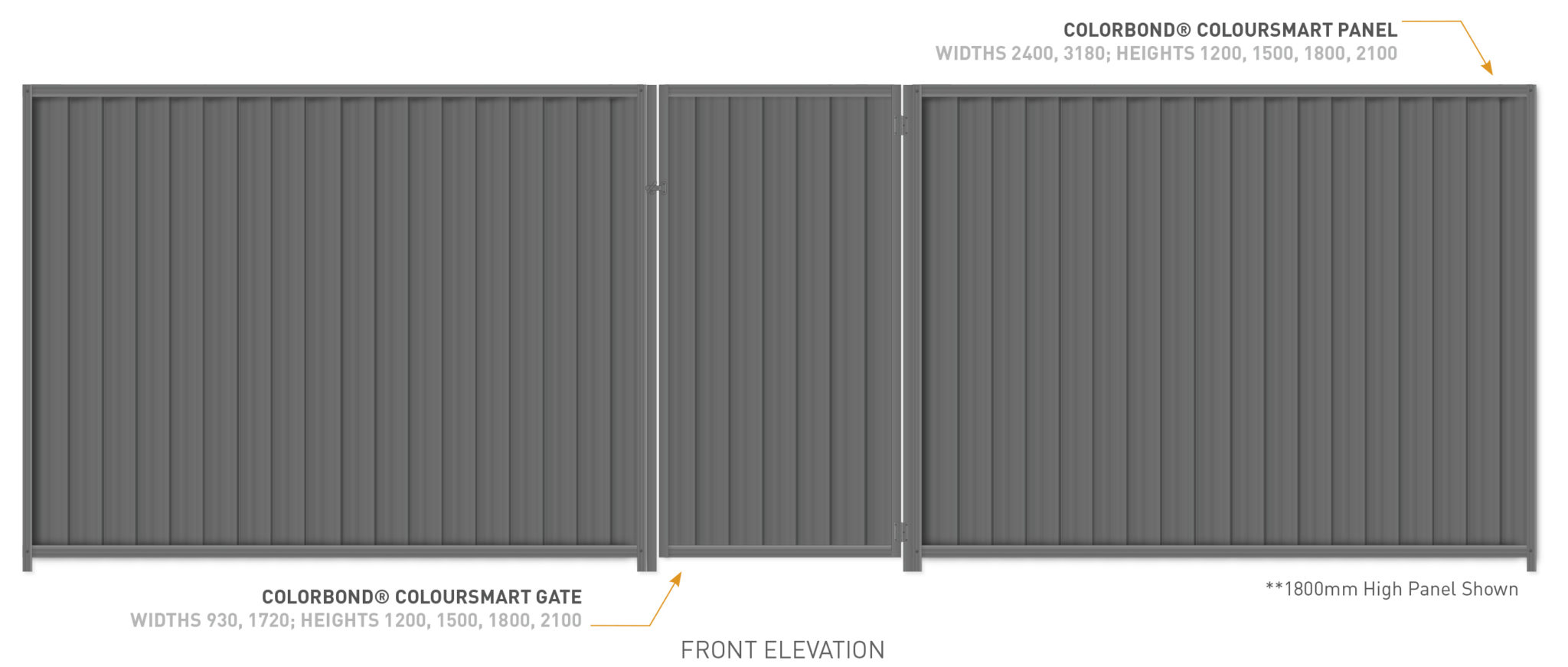 Colorbond Infill Sheet Profile
Our preferred supplier manufactures a zig zag profile that is identical on both sides. Unless specific instruction to do otherwise is given, for example to match a Colorbond fence profile on another side of the property, we will install a profile that is the same on both sides.

Australian Standards
AS1397- Formability and Structural Grades of Steel: Post and Rails 0.8mm / Infill Sheets 0.35mm Base Metal Thickness (BMT)
AS2728- Coated Mass and Paint Film Thickness