We install Colorbond fencing and Hardie fencing
Colorbond fencing comes in a range of colours to suit your home and taste. Colorbond fencing won't rot, warp or twist, and will never need painting. With it's clever assembly and post installation system, Colorbond fencing goes up fast, stays in strong, and looks terrific.
On this page:
Choose a tab to see our Colorbond colour range, Colorbond fence and gate specifications, and browse some available accessories for Colorbond fences and gates.
Read some of our most frequently asked questions related to Colorbond fencing and gates
Find loads more information and pictures in our Colorbond fencing and gate related blogs
Useful links
See our links to download colours and guides, as well as some useful articles on what to consider when installing or replacing a fence.
Colorbond Fencing Colour Names & Aliases
Note: As printers, monitors and device screens can differ in the way they display colours, these colour swatches should be used as an indicative guide only. Available in 22 Colorbond Steel fencing colours, guaranteed to meet AS2728.
If you are considering colours, we can bring colour samples out to you for viewing during your free measure and quote.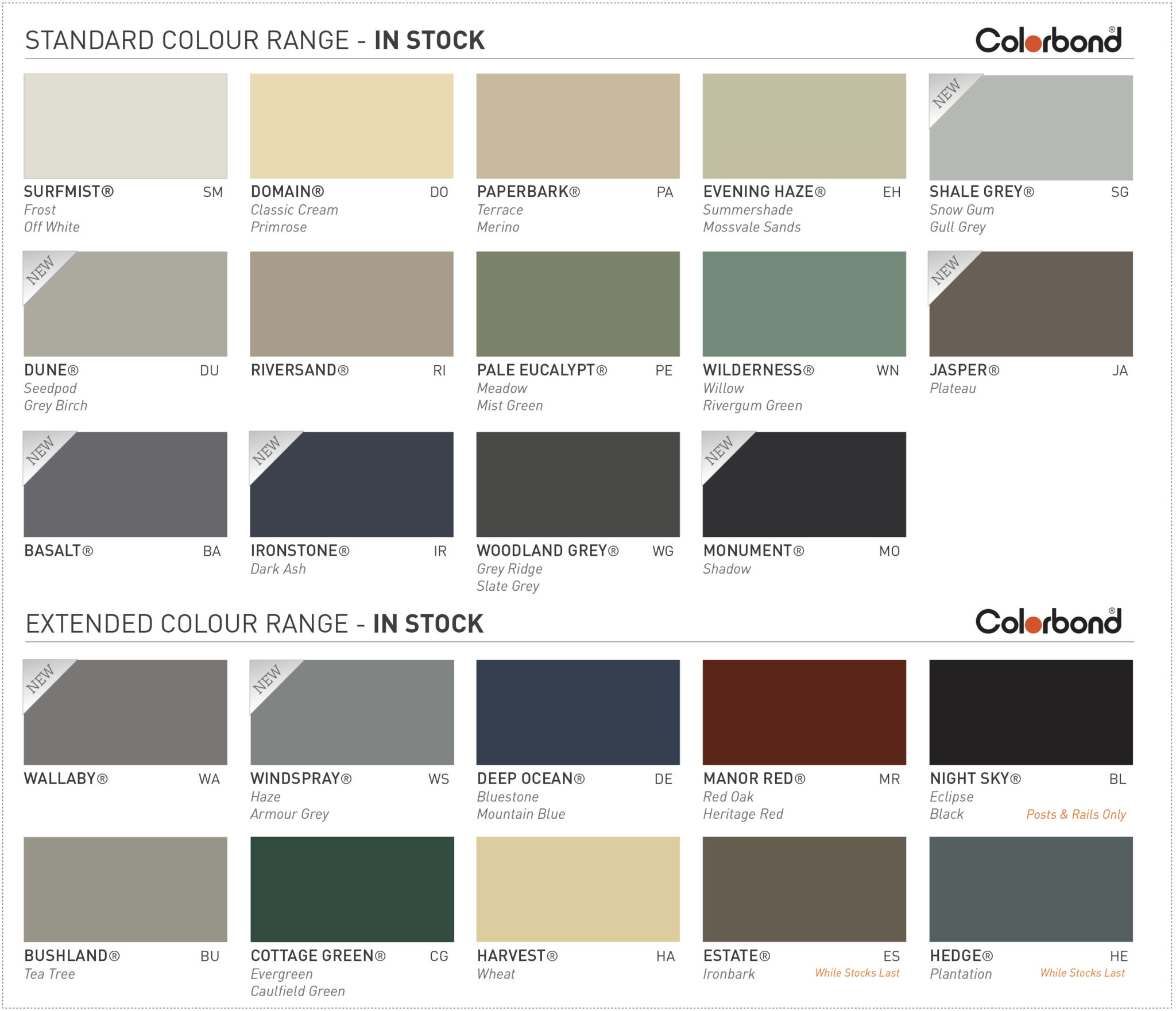 Colorbond Fencing and Gate Specifications
The following Colorbond fencing and gate specifications are from our preferred supplier, and are similar but not identical between suppliers. You can request that your Colorbond fencing or gate product be from a different supplier, which you may wish to do if you would like to match your new Colorbond fence or gate with an existing one.
Colorbond fence panels and Colorbond gates are available in standard heights of 1200mm, 1500mm, 1800mm and 2100mm. Colorbond gates are available in standard 930mm (pedestrian gate) and 1720mm (per leaf, double gate) widths. Colorbond fence panels are available in standard 2400mm and 3180mm widths.
Custom sizes are available on both Colorbond fences and Colorbond gates, as well as accessories such as fence extensions and plinths (see our Colorbond accessories tab above for more information).
Standard boundary fences are 1800mm high. Contact your local council if you want to install a non-standard Colorbond fence on your property boundary.
Colorbond Infill Sheet Profile
Our preferred supplier manufactures a zig zag profile that is identical on both sides. Unless specific instruction to do otherwise is given, for example to match a Colorbond fence profile on another side of the property, we will install a profile that is the same on both sides.
Australian Standards
AS1397- Formability and Structural Grades of Steel: Post and Rails 0.8mm / Infill Sheets 0.35mm Base Metal Thickness (BMT)
AS2728- Coated Mass and Paint Film Thickness

Standard Colorbond gate installation
Your standard Colorbond gate quote includes a d-latch and extender arm, and butt hinges. Colorbond double gates are also installed with drop bolts.
We can also supply and install gate hardware by D&D Technologies. See below for optional latches and hinges that we can install on your request.
LOKKLATCH STANDARD

HW3020



LOKKLATCH DELUXE 

HW3030

T-LATCH

HW3040

KWIK FIT SPRUNG HINGE

HW2010

TRU-CLOSE REGULAR HINGE

HW2020

TRU-CLOSE HEAVY DUTY HINGE

HW2030

Colorbond Fence

Extensions
Choose a Colorbond fence extension to compliment your fence for a customised look. Colorbond fences can be full privacy, or a combination of full privacy and a choice of Slats, Lattice, or laser cut Slattice extensions.
Colorbond fence extensions can also be installed on top of your Colorbond gate to match your fence. Standard Colorbond fence extensions are 300mm high, making a standard 1800mm high fence a total of 2100mm high, or bring a 1500mm Colorbond fence up to a standard height.
Colorbond Fence

Plinths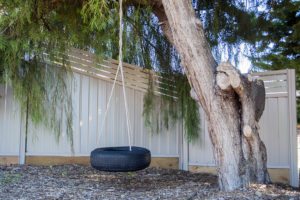 Colorbond fence plinths are installed between the Colorbond fence posts under the bottom rail, and are an excellent way to fill gaps under your Colorbond fence created by installing a Colorbond fence via stepped installation along sloped ground (see our Installation tab for more details.
Colorbond fence plinths can also be used to discourage dogs digging under the bottom rail of the Colorbond fence, as unlike the Colorbond fence panels, they can be buried or partially buried under the soil.
For smaller variations in soil height, you may be able to install plinths under the fence to retain the soil on the higher side. Colorbond fence plinths can be installed as Colorbond steel plinths to match your Colorbond fence, as timber pine sleepers, or tubular aluminium plinths.
The effect of soil height variation on a fence is often underestimated, and without proper installation and reinforcement, over time your fence may lean from the weight and pressure pushing against the plinths on the higher side. To use plinths for retaining, you may require additional low posts on the lower side, to stop the plinths bowing over time.
Colorbond Fence Installation
There is more to installing a Colorbond fence than many realise. As a Colorbond fence is installed by concreting posts on either side of each Colorbond panel into the ground or into block work, and the bottom rail of the Colorbond fence should stay exposed, the contour of the ground plays a very important role in how we will install your Colorbond fence.
One of the most common misconceptions is that your existing fence, whether Colorbond, Hardie fencing or otherwise, is installed correctly. Soil being moved around over years is often a contributing factor to a fence falling over, when the height of the soil on either side of a fence is no longer equal. In other words, a new fence installation can not necessarily replace an existing installation without alterations to the way the new fence is to be installed, for example you may need to install retaining for uneven soil where there was not retaining already installed.
As well as varying soil heights on either side of a boundary fence, a sloped ground along the fence line also plays a part in the installation of your Colorbond fence.
Standard Colorbond fence panel on flat ground
Stepped Colorbond fence panels on sloped ground
Raked/ sloped Colorbond fence panel on sloped ground
Tapered Colorbond fence panel joining Colorbond fencing panels of different heights
FAQs
Find out answers to some of our most frequently asked questions for Colorbond fencing and gates, as well as Hardie fencing.
Our Blog Posts
You can find loads of extra information and pictures for Colorbond fencing and gates from our related blog posts. See some of our posts below for trade insight on Colorbond and Hardie fencing.
In some cases, timber or steel plinths are required to infill gaps under a Colorbond fence. This fence line was installed to accommodate the landscape of the block on the elevated side leaving a gap issue [...]