Residential council vehicle crossovers made easy
Perth Trade Centre will work to your individual council specifications and help you understand your obligations. We specialise in driveway crossovers for residential property owners and install paved, concrete, and asphalt crossovers to specification. We also provide repairs and demo of existing crossovers.
On this page:
See our terminology sketch, find a link to your local council for local regulations on installing a crossover, and read what information to send us for a quote on your crossover installation.
Read some of our most frequently asked questions related to council vehicle crossovers.
Find loads more information and pictures in our crossover related blogs.
Crossover Installation: a guide
See our tabs to guide you through the process, from understanding your crossover, to reading what your local council requires, to what information we need from you for your crossover quote.
Understanding your crossover
See our terminology diagram to help you better understand what terms to use for your council crossover.
Council crossovers come in many different configurations. You may have a footpath that butts up against the kerb, one that sits further back, or no footpath at all. Below is just one example of what configuration your crossover may present for a general description.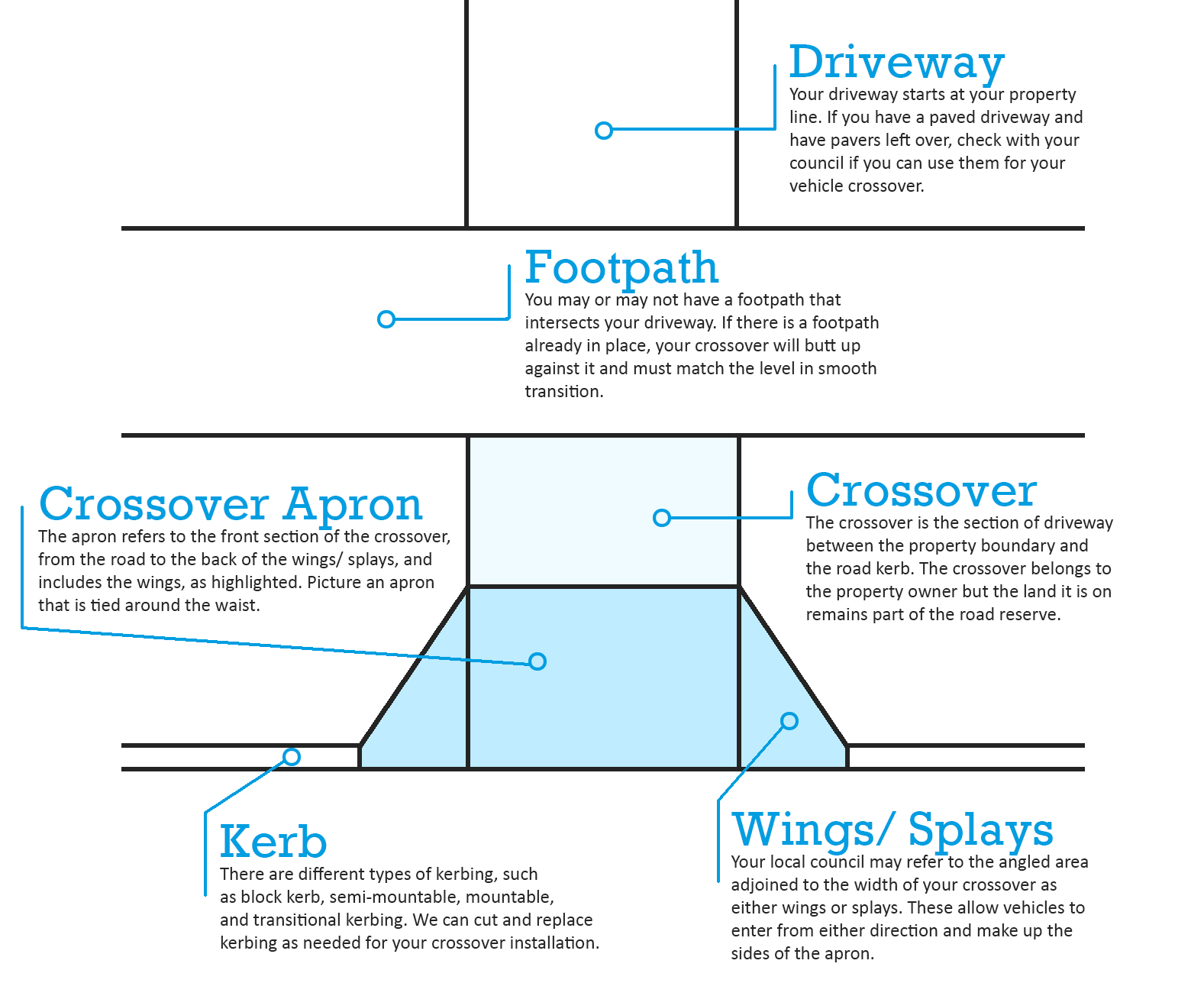 As different councils have different subsidies and requirements, we have made a link available from our website to your local council. Councils are in alphabetical order from top to bottom.
Contacting your council is the first step in the process. Find out what size crossover you are allowed to install, what materials you are allowed to use, and the application process for approval to install a vehicle crossover.
Once you know what you are allowed to install, contact us for a quote to install your council crossover.
What we need to know:
If your local council has emailed you specifications for your crossover, send us the details, including any drawings or sketches you have from your builder, your council, or any you have prepared yourself. We will need to be able to determine the size of the crossover for the quote, and the more specific measurements and placement for installation.
Let us know what product you intend to install. Some councils will only allow concrete to be used for a crossover, while others may allow paving or other surfaces. It is up to you to determine what you are allowed to install, and we will quote you based on the information you provide to us.
Let us know if there is an existing crossover that needs to be removed prior to the installation of the new crossover. If there is an existing crossover or extra soil that needs to be removed prior to installing your crossover, you may need to arrange for a skip bin to be available on site the day of preparation and excavation. Soil and building waste such as an existing crossover cannot be left piled up on your verge.
If possible, you are welcome to send a photo of the area to help us determine any possible challenges, such as street lights, distance from side property boundary, street trees, neighbouring crossover splays that encroach, or the need for kerb cutting. Alternatively, we can collect all of this information on your free site inspection.
If you have received an indicative estimate of costs from us prior to a physical inspection, you need to request a free site inspection before we can offer a firm written quote and proceed with any works. Here we will be able to check measure the area and look for any obstacles prior to installing a crossover.
FAQs
Find out answers to some of our most frequently asked questions for vehicle crossovers.
Our Blog Posts
You can find loads of extra information and pictures for limestone block retaining from our related blog posts. See some of our posts below for trade insight on council crossovers.