Supply and installation of premium artificial grass, Perth.
We supply artificial grass for wholesale DIY and trade customers. We can also install your artificial lawn. See our competitive prices for artificial grass Perth below.
More for Artificial Grass Perth:
View our page or our PDF for DIY installation of artificial grass
Contact us to request an artificial grass sample delivered to you
Check out our pricing and specs for supply only artificial grass
See before and after photos of artificial grass being installed into Perth landscapes, and get inspired by our artificial grass Pinterest board.
Read installation tips from our tradies for artificial grass Perth.
Want us to install your artificial grass? View photos of a PTC professional artificial grass installation.
Read some of our most frequently asked questions related to artificial grass
Find loads more information and pictures in our artificial grass related blogs
Wholesale DIY & Trade Customers
See our supply only pricing and our installation guide for artificial grass Perth, including how to calculate how much you will need, and pictures of artificial grass being installed into a Perth yard.
FREE DELIVERY 
to selected areas within 24hrs
on Minimum Order purchases of our DIY Premium Artificial Grass Perth.*
HARMONY NATURAL
ECO PREMIUM ARTIFICIAL GRASS PROFILE:
HEIGHT:   30mm
COLOUR:  Multi-toned green with brown thatch
Our most popular selling premium artificial grass, HARMONY NATURAL synthetic has a natural looking brown thatch layer visible in between the green blades.
If you are looking for the most natural looking artificial grass, it is hard to beat HARMONY NATURAL synthetic.
Cut price
2 metre and 4 metre widths
Whole roll price
2 metre width whole roll $1250
TERRACE GREEN
ECO PREMIUM ARTIFICIAL GRASS PROFILE:
HEIGHT:   30mm
COLOUR:  Green
Our TERRACE GREEN synthetic is the ideal choice for an all year round immaculate, perfectly green look.
Perfect for applications for contrasting colours within your landscape.
Standard
2 metre and 4 metre widths
Standard
2 metre width whole roll $1200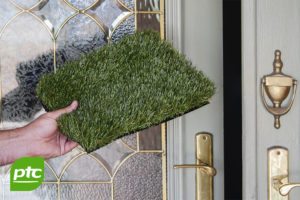 REQUEST A SAMPLE
We can send a sample out to you!
Artificial grass Perth- supply only
Perth Trade Centre now offers a select DIY range of artificial grass, ideal for the backyard landscaper. If you are the type of person who likes to save where you can, choosing the "supply me" only option could potentially save you thousands of dollars. Although we have very competitive, professional installation prices, there is no doubt you could save money by doing the labour yourself.
We are currently experiencing a housing and landscaping renovation boom in Western Australia and many people are opting to DIY where they can see savings.
Unlike some products in your home, artificial grass can be easily installed by a reasonably fit and handy DIY enthusiast.
You will need some muscle as some of the DIY stages will be labour intensive, but this is where money can be saved.
Perth Trade Centre is more than happy to help with providing some easy to follow DIY instructions so you can tackle the job yourself. All you have to do is measure out your area or provide us with a lineal metre plan. If you are unsure or have any queries relating to your DIY artificial grass project please contact us for a same day response.
We have expert artificial grass Perth tradespeople that are here to offer friendly practical advice either, over the phone or on delivery of your Perth artificial grass.
FAQs
Find out answers to some of our most frequently asked questions for limestone block retaining walls.
Our Blog Posts
You can find loads of extra information and pictures for limestone block retaining from our related blog posts. See some of our posts below for trade insight on limestone retaining.
Whether looking out at a blank canvas, or working with what your yard already is, it can be daunting figuring out where to spend money, what to put in, and in which order to do [...]