2018 DIY & Trade Pricing on our two
NEW

grasses:
Cut price
2 metre and 4 metre widths
Whole roll price
2 metre width whole roll $1200
Artificial Grass Perth
We supply artificial grass for wholesale DIY and trade customers.
We can also install your artificial lawn. See our competitive prices for artificial grass Perth below. Click here for our DIY installation guide for artificial grass Perth, including how to calculate how much you will need, and pictures of artificial grass being installed into a Perth yard.
NATURAL LEAF THATCH
Exclusive to Perth Trade Centre. Designed for Western Australia.
PREMIUM ARTIFICIAL GRASS PROFILE:
HEIGHT:   35mm
COLOUR:  Multi-toned green with tan fleck and multi thatch
NATURAL LEAF THATCH synthetic has a natural looking brown thatch layer visible in between the green blades. Made for Western Australia's hot, dry summers, NATURAL LEAF THATCH synthetic has tan coloured blades flecked through the green, offering a more natural looking artificial grass. Installed into a large area, the tan fleck softens the look of the artificial turf, as does the lighter colours of the greens chosen.
NATURAL LEAF THATCH green blades are made with a w-shaped yarn, meaning less shine and better ridgidity. The dense tan and dark olive green thatch layer add to the natural appearance of our exclusive artificial grass, designed for Perth.
If you are looking for the most natural looking artificial grass, it is hard to beat our NATURAL LEAF THATCH synthetic turf. 
NATIVE GREENLEAF
Exclusive to Perth Trade Centre. Designed for Western Australia.
PREMIUM ARTIFICIAL GRASS PROFILE: 
HEIGHT:   35mm
COLOUR: Olive multi-green with multi thatch
Our  NATIVE GREENLEAF synthetic is the ideal choice for an all year round immaculate, perfectly green artificial grass. The darker, olive greens used for the artificial grass blades replicate a lush, healthy lawn. NATIVE GREENLEAF is the perfect choice for smaller areas, tropical landscapes, beautifying balconies, and areas in close proximity to a living area.
NATIVE GREENLEAF is made with a C-shaped blade and a dense 16800 stitches per square metre. It looks great from any angle because the high stitch rate means it stands up better than any other artificial grass.
Perfect for a lawn that will make the neighbours green with envy.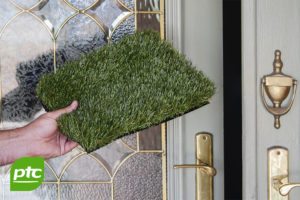 REQUEST A SAMPLE
We can send a sample out to you!
More for Artificial Grass Perth:
View our page or our PDF for DIY installation of artificial grass Perth
Contact us to request an artificial grass sample delivered to you
See before and after photos of artificial grass being installed into Perth landscapes, and get inspired by our artificial grass Pinterest board.
Read installation tips from our tradies for artificial grass Perth.
Want us to install your artificial grass? View photos of a PTC professional artificial grass installation.
Read some of our most frequently asked questions related to artificial grass
Find loads more information and pictures in our artificial grass related blogs
Artificial grass Perth- supply only
Perth Trade Centre offers a select DIY range of artificial grass, ideal for the backyard landscaper. If you are the type of person who likes to save money where you can, choosing the "supply only" option could potentially save you thousands of dollars. Although we have very competitive, professional installation prices, there is no doubt you could save money by tackling the labour yourself.
Many people are opting to DIY where they can see savings. This includes artificial grass installations. Unlike some products in your home, artificial grass can be easily installed by a reasonably fit and handy DIY enthusiast. You will need some muscle, as some of the DIY stages will be labour intensive, but this is where money can be saved.
Perth Trade Centre provides some easy to follow DIY instructions so you can tackle the job yourself. All you have to do is measure out your area, or provide us with a lineal metre plan. Advice is free! If you are unsure or have any queries relating to your DIY artificial grass project, please contact us for a same day response. We also have loads of information and photos related to installing your artificial grass that can be accessed above.
We have expert artificial grass Perth tradespeople that are here to offer friendly, practical advice, either over the phone or on delivery of your artificial grass.
FAQs
Find out answers to some of our most frequently asked questions for limestone block retaining walls.
Our Blog Posts
You can find loads of extra information and pictures for limestone block retaining from our related blog posts. See some of our posts below for trade insight on limestone retaining.
Want more inspiration? Visit us on Pinterest! See our collection of inspiring photos for artificial grass.